10 Meaningful Songs to Walk Down the Aisle To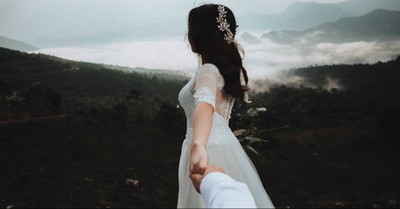 By Dolores Smyth, Crosswalk.com
Few events brim with more love and hope than wedding ceremonies. On the big day, brides and grooms express their joy by decorating their church with beautiful flowers, soft bows, and other elegant touches.
Happy couples also set a tone of love by picking meaningful songs to play during their walk toward the altar. Some wedding processional songs speak to a couple's humble reverence to God, while others symbolize a couple's tender devotion to one another.
In no particular order, here are 10 meaningful songs that convey love and hope for your walk down the aisle:
Photo Credit: ©Unsplash/Chein Pham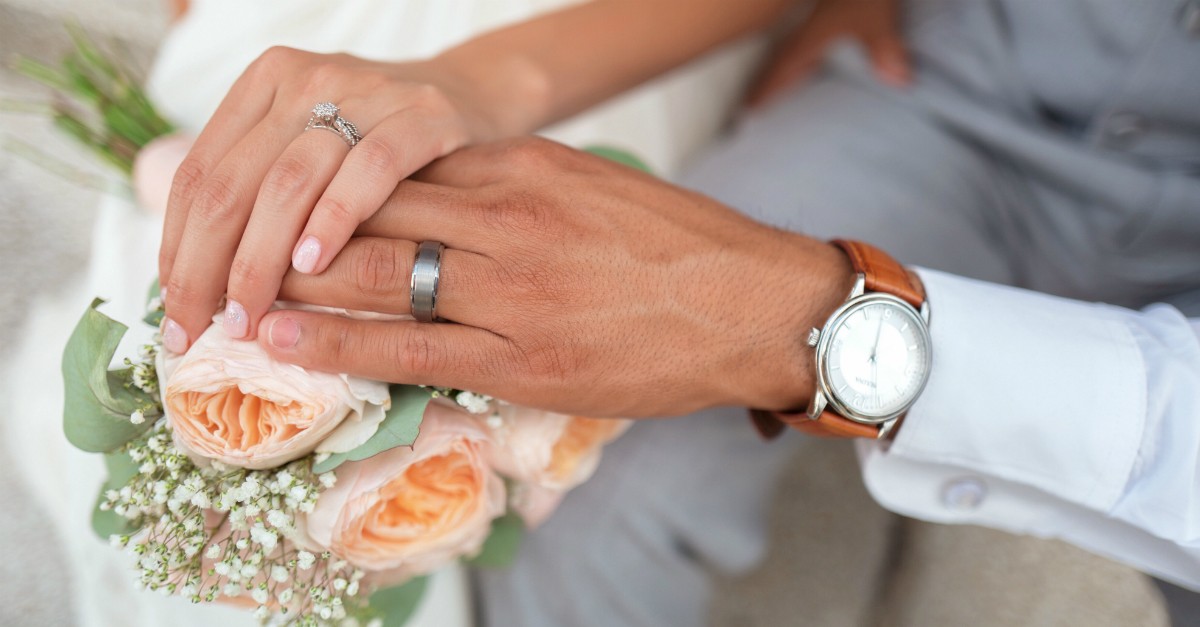 1. The Prayer by Celine Dion and Andrea Bocelli
Musical Genre: Classical Crossover
This inspiring song is a prayer for guidance, wisdom, and peace. Performed by two of the most admired voices in music, the piece weaves in and out of English and Italian while displaying the fullness of Dion and Bocelli's vocal talents. The song ends softly yet powerfully as the singers join voices in a way that seems to soar up to the heavens in prayer.
Lyrics you'll love:
"I pray You'll be our eyes
And watch us where we go
And help us to be wise
In times when we don't know
Let this be our prayer
When we lose our way
Lead us to a place
Guide us with Your grace
To a place where we'll be safe"
2. Ave Maria by Christina England Hale
Musical genre: Classical
This gorgeous yet humble request for the Virgin Mary's prayers sets the Hail Mary to a moving arrangement written by celebrated composer Franz Schubert. A staple of Roman Catholic weddings, this song is often performed in Latin and has been recorded by such other artists as Andrea Bocelli, Josh Groban, Michael Bublé, Frank Sinatra, and Barbara Bonney (in German).
Lyrics you'll love:
"Ave Maria / Hail Mary
Gratia plena / Full of grace
Maria, gratia plena /Mary, full of grace
Maria, gratia plena / Mary, full of grace
Ave dominus / Hail the Lord
Dominus tecum / The Lord is with thee
Benedicta tu in mulieribus / Blessed art thou among women
Et benedictus / And blessed
Et Benedictus fructus ventris /And blessed is the fruit of thy womb
Ventris tuae, Jesus / Thy womb, Jesus
Ave Maria / Hail Mary
Ave Maria/ Hail Mary
Mater Dei /Mother of God
Ora pro nobis peccatoribus / Pray for us sinners"
Photo Credit: ©Unsplash/Drew Coffman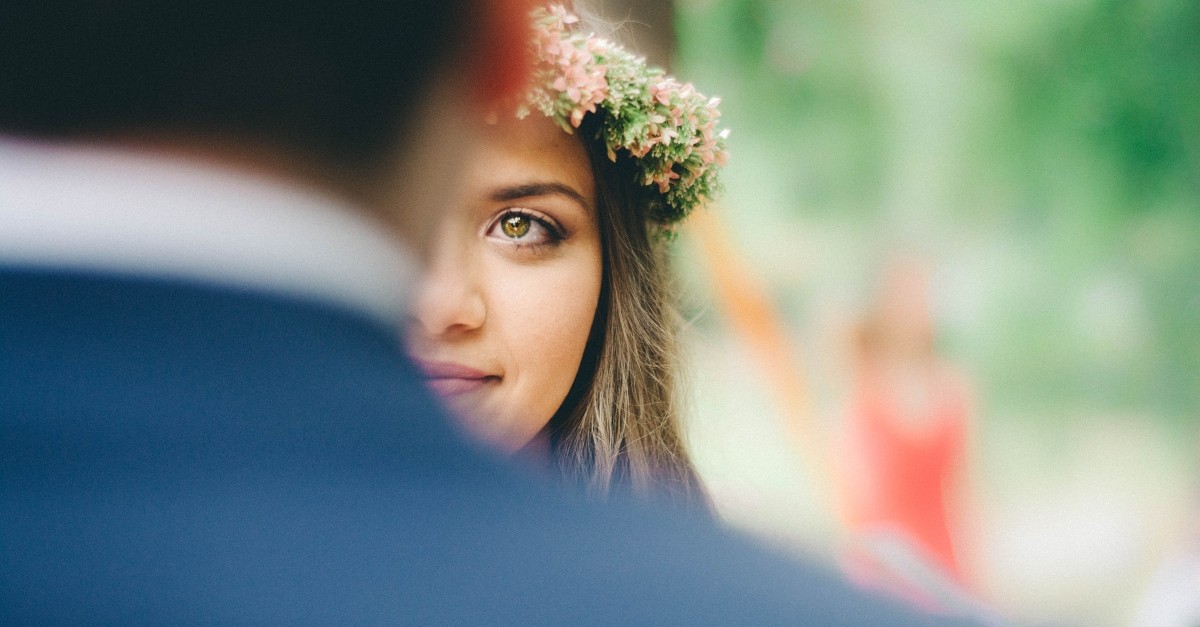 3. Be Thou My Vision by Audrey Assad
Musical Genre: Christian hymn
This gripping hymn is of Irish origin and is believed to date back to the 6th century. With music that starts slowly and then progresses into a percussion-based beat, the lyrics declare steadfast faith in God while asking God for wisdom and His constant presence throughout life.
One especially moving verse speaks of the importance of inheriting the Kingdom of Heaven over any earthly riches--a wonderful reminder as you enter into a covenant with the one you love, but is only a mere reflection of God's love for his church.
Lyrics you'll love:
"Be Thou my wisdom, and Thou my true Word
I ever with Thee and Thou with me, Lord
Thou my great Father and I, Thy true son
Thou in me dwelling, and I with Thee one
Riches I heed not, nor man's empty praise
Thou mine inheritance, now and always
Thou and Thou only, first in my heart
High King of Heaven, my treasure Thou art"
4. How Great Thou Art by Pentatonix (featuring Jennifer Hudson)
Musical genre: Christian Hymn
For a more exuberant walk down the aisle, this jubilant a cappella rendition of this well-known hymn rouses guests to clap their hands and tap their feet.
This rendition focuses only on the first two verses and the refrain of the hymn, recalling Psalm 8 in its praise for all of God's wonderous creations. It's also a lovely prayer to sing in your heart as you walk down the aisle towards one of the biggest blessings in your life, praising God for his greatness.
Lyrics you'll love:
"O Lord my God, when I in awesome wonder
Consider all the worlds Thy Hands have made
I see the stars, I hear the rolling thunder
Thy power throughout the universe displayed
Then sings my soul, My Savior God, to Thee
How great Thou art, How great Thou art
Then sings my soul, My Savior God, to Thee
How great Thou art, How great Thou art"
Photo Credit: ©Unsplash/David Thomaz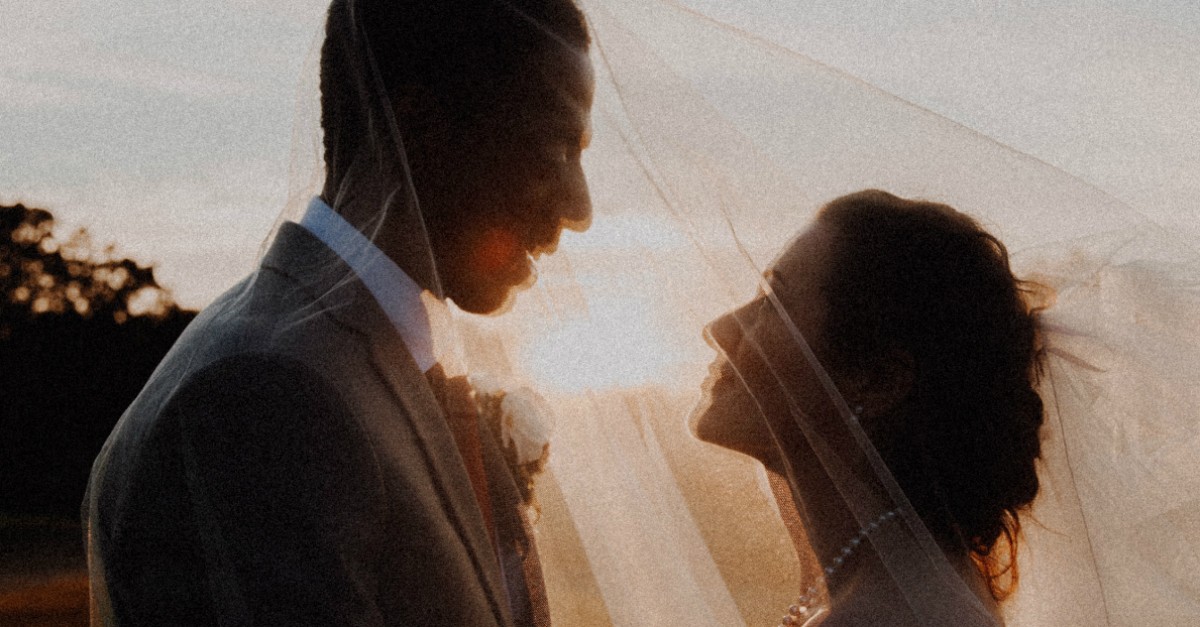 5. Nobody Loves Me Like You by Chris Tomlin
Musical Genre: Worship, Contemporary Christian
If you'd prefer a more contemporary worship selection, this song of praise begins with soft words and chords in reflecting on Jesus's love all around us.
The song then grows more upbeat, building to a hands-in-the-air-worthy chorus that praises the Lord.
Lyrics you'll love:
"Story, I could've had a really different story
But You came down from heaven to restore me
Forever saved my life
Nobody loves me like You love me, Jesus
I stand in awe of Your amazing ways
I worship You as long as I am breathing
God, You are faithful and true
Nobody loves me like You"
6. When I Say I Do by Matthew West
Musical Genre: Contemporary Christian
This lovesong embraces you from the beginning with its quiet piano introduction that leads into words linking God with love, and recalling God's plan to give us hope and a future (Jeremiah 29:11).
The lyrics also recite traditional wedding vows, promising devotion "in sickness and in health…'til death do us part."
Lyrics you'll love:
"And I have never been so sure of anything before
Like I am in this moment here with you
And now 'for better or for worse'
Are so much more than only words
And I pray every day will be the proof
That I mean what I say when I say 'I do'
Yeah I mean what I say when I say 'I do'"
Photo Credit: ©Unsplash/Isaiah Rustad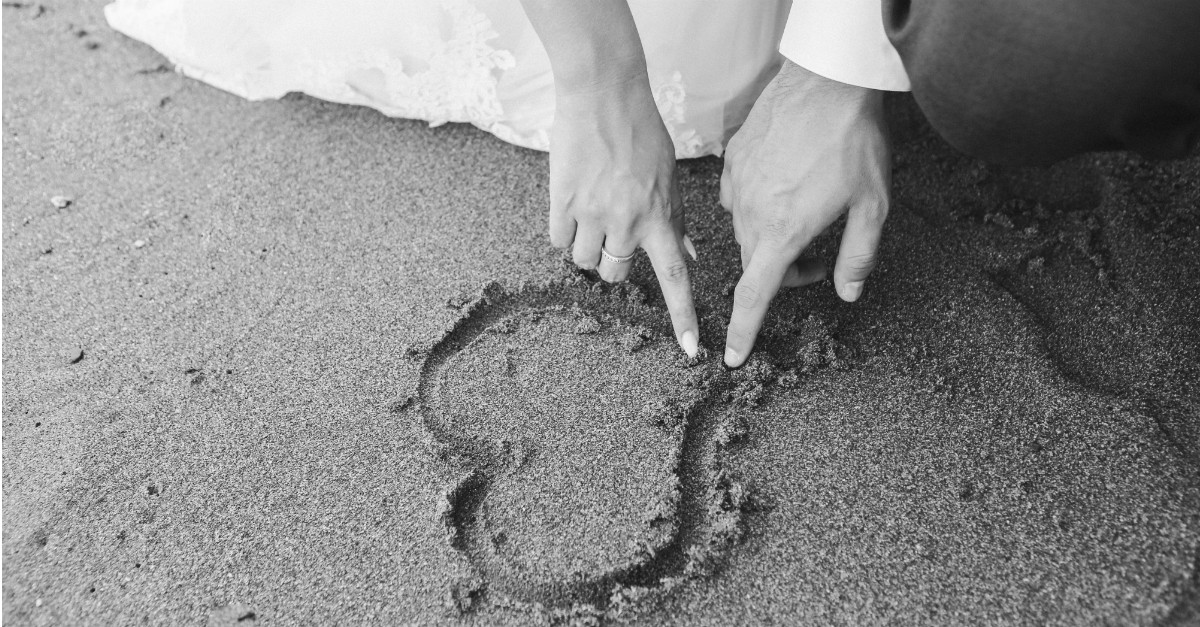 7. Oceans (Where Feet May Fail) by Hillsong UNITED
Musical Genre: Worship, Contemporary Christian
This mesmerizing worship song bases its message of faith on the unconditional trust St. Peter showed when he stepped out of a ship and walked on stormy waters toward Jesus (Matthew 14:28-29).
Further uniting the theme of faith, Jesus, and water, the lyrics to this song were finalized while the band visited a waterfall for inspiration.
Lyrics you'll love:
"You call me out upon the waters
The great unknown where feet may fail
And there I find you in the mystery
In oceans deep my faith will stand
And I will call upon Your name
And keep my eyes above the waves
When oceans rise
My soul will rest in your embrace
For I am Yours and You are mine"
8. Love Has Come by Matt Maher
Musical Genre: Worship, Contemporary Christian
If you're looking for a worship song with a cheerful Irish folk music beat, this song won't disappoint. This song speaks of angels, prophets, God's grace, and Jesus's redeeming sacrifice as it rejoices that love has come down to show us the way in peace.
Lyrics you'll love:
"God of covenant divine
Lead us to the end of time
Beyond sorrow, beyond fear
Beyond pride and earthen tears
Word of God enthroned
Dwell in us forevermore
Love has come to show the way
Halleluiah, peace be with us
Love has come to show the way"
Photo Credit: ©Unsplash/Nick Karvounis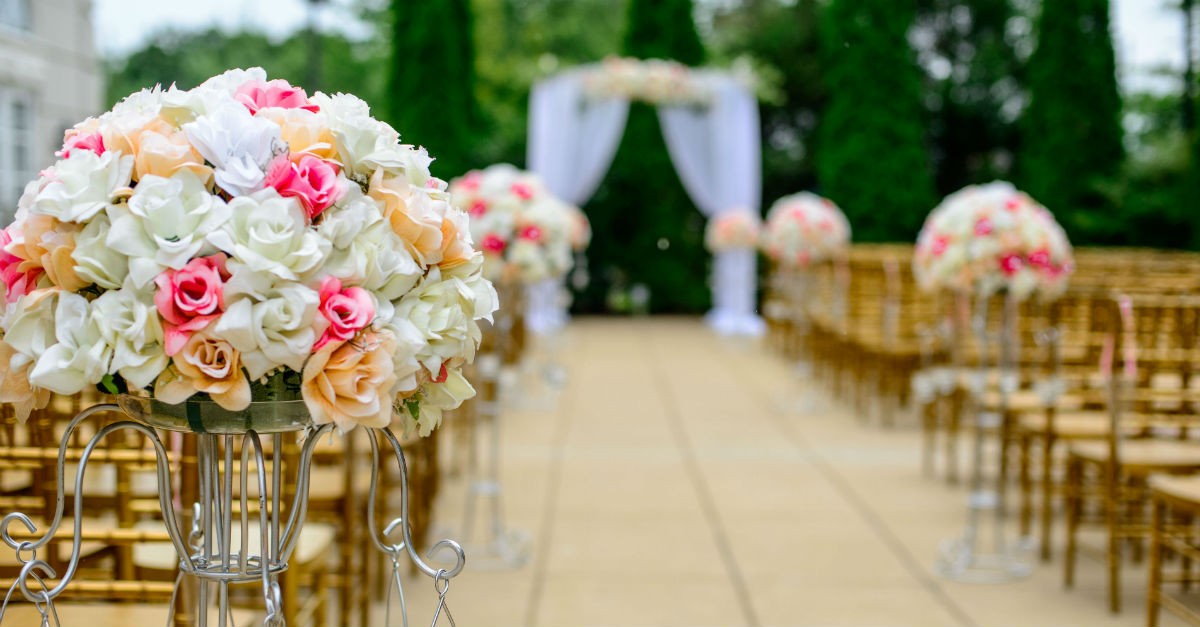 9. When I Said I Do by Clint Black & Lisa Hartman Black
Musical genre: Country
Longtime country-music lovers may remember this heart-tugging hit by Clint Black and his wife Lisa Hartman Black. In this song, Black and his bride tenderly reminisce on the words they spoke at their wedding ceremony and continue to live by. Making this couple's lyrics more touching is the fact that they remain a couple, celebrating their 28th wedding anniversary this year.
Lyrics you'll love:
"I know there's a lonely heart in every lost and find
But forever you and I will be the ones
Who found out what forever means
When I said I do, I meant that I will
'Til the end of all time
Be faithful and true, devoted to you
That's what I had in mind, when I said I do"
10. From the Ground Up by Dan + Shay
Musical genre: Country
If you prefer a more contemporary country song, this duo's romantic ballad is perfect for your wedding processional. This emotional wedding song was written in honor of the singers' grandparents, whose respective marriages lasted over 65 years.
The lyrics also speak to brides' fathers with the words: "I'll be the man your dad hoped that I'd be." More than just sentimental, this song also strikes a practical chord by encouraging couples to stick together through any bad times ahead.
Lyrics you'll love:
"This life will go by in the blink of an eye
But I wouldn't wanna spend it without you by my side
The clouds are gonna roll
The earth's gonna shake
But I'll be your shelter through the wind and the rain
And we'll build this love from the ground up
Now 'til forever it's all of me, all of you
Just take my hand
And I'll be the man your dad hoped that I'd be"
Regardless of genre or pace, the song you choose for your walk toward the altar should be special to you and your future spouse, reflecting your feelings and aspirations. God bless your holy union!
---
Dolores Smyth writes on faith and families. Her work has appeared in numerous print and online publications. You can read more of her work on Twitter @LolaWordSmyth.
Photo Credit: ©Unsplash/Shardayyy Photography