6 Simple Ways to Cultivate Thanksgiving in Your Grandchildren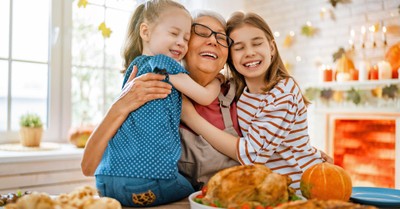 By Stacey Monaco, Crosswalk.com
"In November, people are good to each other. They carry pies to each other's homes and talk by crackling woodstoves, sipping mellow cider. They travel far on a special November day just to share a meal with one another and to give thanks for their many blessings—for the food on their tables and the babies in their arms."
The annual turning of the seasons ushering in cool weather and changes in nature can bring grandparents to the Thanksgiving holiday and the impending Christmas season with a checklist of menus or travel to plan. There are gifts and cards to be purchased and a general sense of busyness. In our hearts, we know the entire season, from the beginning of November to the joy of Christmas day, should lend itself to thankfulness and a general valuing of faith and family. Yet even as grandparents, the busyness of this celebratory season can have us more focused on completing tasks than on cultivating gratitude.
In the sweet children's book quoted above, "November," written by Cynthia Rylant, the author paints a lovely portrait of gratitude for simple daily moments with logs "crackling" warm and cider being sipped. She draws attention to the truth that the myriad of blessings present in our day-to-day lives, when noticed, give abundant reasons for giving thanks.
While the holiday season can be a hallmark to spur our hearts back to a state of gratefulness, as grandparents living the Christian life, we have a biblical encouragement in Ephesians 5:20 to be "always giving thanks to God the Father, for everything, in the name of our Lord Jesus Christ." We have the opportunity to lead our grandchildren well through living an intentionally grateful life.
Here are six simple ways to cultivate a heart of thanksgiving in yourself and your grandchildren all year long.
1. Find Daily Rhythms That Example the Love of Christ
Scholar and author Brene Brown notes, "Practicing gratitude invites joy into your life." As a researcher, she began the practice of incorporating an opportunity for her family to express something that they are grateful for each day after saying grace at dinner. She found that the nightly rhythm became a valued time of intentional thankfulness that offered insight into the daily joys and concerns of her children's lives. She also discovered that building a lifestyle of giving thanks required more than simply seeking to have an "attitude of gratitude" and could not be achieved through enforcing a platitude of gracious manners upon children.
Although there may be value in a construct of kind manners, truly grateful living is caught more than taught. As grandparents, we can seek to use our words to value our grandchildren and others, calling out the unique design of each human being. We can thank them for coming to visit, for ways that they may help, and just for the beauty of how God designs them. We can choose to set an intention to live Philippians 4:8-9 such that "whatever is true, whatever is noble, whatever is right, whatever is pure, whatever is lovely, whatever is admirable—if anything is excellent or praiseworthy—(we) think about these things."
When our minds are set to see God and what is good in others, we have established a foundation for rhythms of gratitude. When your grandchildren visit, you may say, "I am so delighted you are here. You are such a wonderful gift from God." You may adopt a gratitude moment at meals. You may simply choose to hug them every time you see them and call out something you love about them. Create rhythms and practices with intent that become ways of expressing that you value them and the God who created them.
2. Engage in Nature with A Sense of Awe
The psalmist writes, "The heavens declare the glory of God, the skies proclaim the work of his hands. (Psalm 19:1)
The beauty and bounty of nature provide a natural setting for grandparents to live out thanksgiving with our grandchildren. A trip to the beach or a nearby stream may offer seashells or twigs and pebbles to gather and enjoy in our homes as an appreciation of the beauty of creation. Creating an awareness of the changing of the seasons through playful moments collecting or stomping in falling leaves or building a snowman and catching snowflakes on awaiting tongues provides moments of awe and wonder in the beauty of creation. A nearby observatory, or even your own backyard, offers the opportunity to revel in the stars or a striking sunset.
Something as simple as a walk in your neighborhood can be a time to see the daily with new eyes, as you call out the blooming of a rose, the passing by of a neighbor walking their pup, or a found pinecone. To be caught up in gratitude and awe often begins with a conscious effort to slow and see with the same childlike eyes as your grandchildren, and then mark the moment with a smile, a word of delight, or a simple "I'm so glad to be here with you."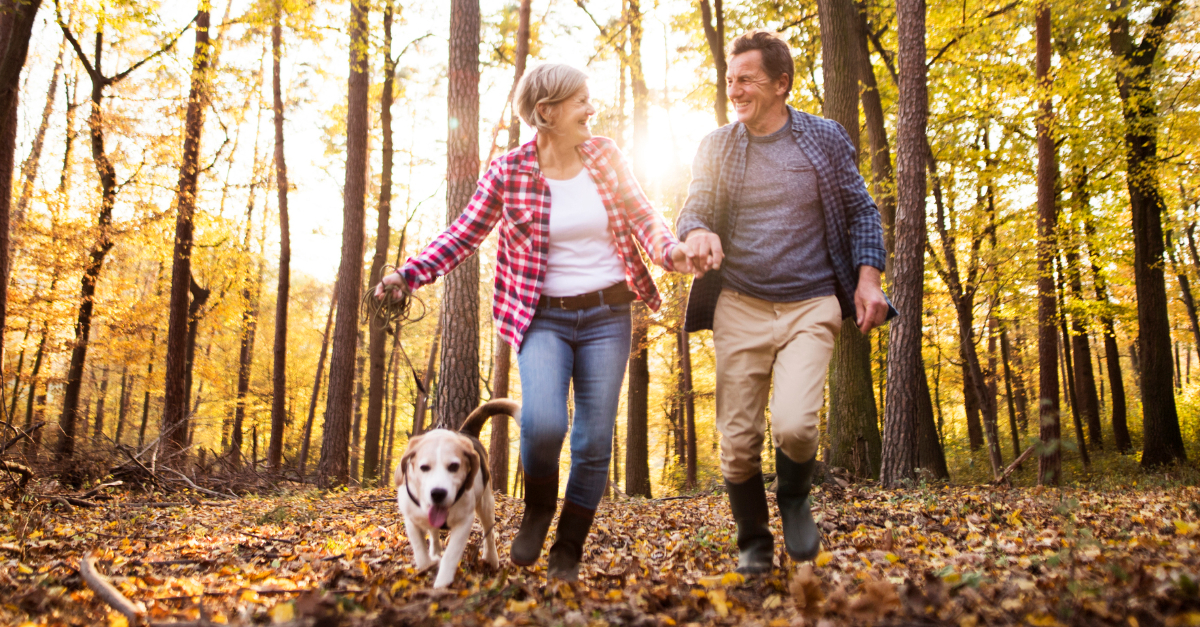 Photo credit: ©Getty Images/Halfpoint
3. Read Some Gratitude Into Your Grand-parenting
A good book plus a grandparent by your side gives much for a young grandchild to be grateful about. A grandchild who has been read to can echo with Wilbur, the pig of EB. White's Charlotte's Web, "You have been my friend, that in itself is a tremendous thing."
Young minds can be formed and transformed through Biblical stories and countless books written for children that encourage gratitude and awe at the gentle beauty of friendship, nature, and other gifts that can be found in daily life. Reading together with your grandchild promotes bonding and intimacy of relationship, which builds the foundation for trust and respect. Grandchildren who read with their grandparents are likely to not only learn from books that encourage and promote the skill of living with thanksgiving but will also be more likely to catch and model the grateful behaviors of the grandparent with whom they have formed a close bond.
Your local bookshop or library can assist you in finding countless titles that encourage seeing the world through eyes of wonder and gratitude.
4. Words of Thanks Can Change the World
Recently, I have taken the opportunity to write simple notes of remembrance to the people in my life, detailing and valuing them through a special memory. Social etiquette may teach that as parents and grandparents, we should be coaching our heirs to thank others properly, but I can think of no better place to start such a grace than by sending notes of thanks and love to the young ones that bring our hearts joy. Sending an utterly unexpected note or card to your grandchild of any age exhibits gratitude and serves to build your relationship and cement positive memories.
In times together, you can help your grandchildren make creative thank you notes or pictures for their parents or others, or work together on a gratitude book that includes photographs or drawings and tidbits of the little events of life. Honoring these memories leads toward intentional moments of thankfulness. If you keep a gratitude journal, you might opt to read your grandchildren an entry that speaks of something you are grateful for relating specifically to them.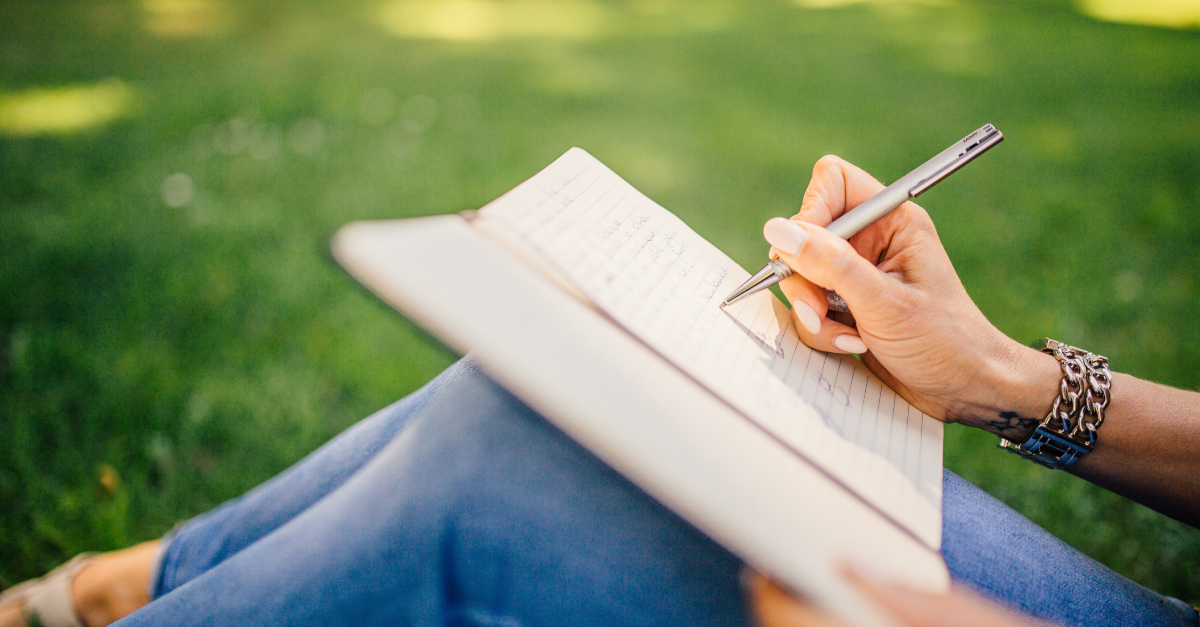 Photo credit: ©Pexels/Negative Space
5. A Lifestyle of Gratitude Is Caught, Not Taught
Gratitude as a life skill has been scientifically shown to promote stronger relationships, improved mental and physical health, increased empathy and reduced aggression, greater self-esteem, mental strength, and resilience, as well as better sleep quality.
Having the mindset that thanksgiving can beget thanksgiving, we can choose as grandparents to actively cultivate gratitude in our own daily lives. From keeping a gratitude journal, observing creation with awareness and awe, to adding moments of thankfulness around a table, and affirming others through words and notes of thanks, as we move toward a lifestyle of thankfulness, we can easily invite our grandchildren to grow with us in this life skill that can benefit them for a lifetime.
Gratitude expresses our dependence on and humility toward God and our world, reminding us of our connectivity to our community. In our daily lives, it sets the tone that even in the mundane, life is something we "get to" do, and every moment is a privilege.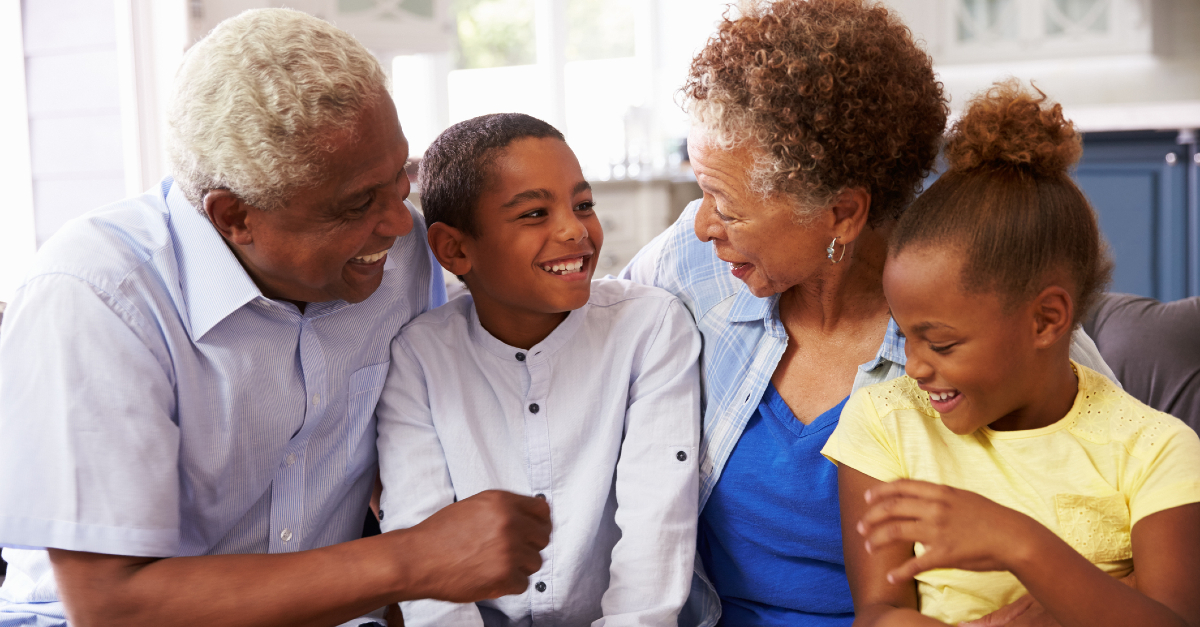 Photo credit: ©GettyImages/monkeybusinessimages
6. Let Your Gratitude Be Creative
"Piglet noticed that even though he had a Very Small Heart, it could hold a rather large amount of Gratitude." Winnie the Pooh by A.A. Milne
The time we have with our grandchildren offers opportunities for time spent creating, serving, playing, and generally seeking out what is interesting and lovely in life. Pay attention and be unafraid to involve your grandchildren in everything from cooking in the kitchen, gardening in your yard, to taking cookies to a neighbor.
Let your words and deeds convey a conscious attitude of all tasks being a privilege: something you get to do, not have to do. Tuck a gratitude jar in your kitchen and let your grandchildren decorate it with you, filling it with colorful paper to write notes of thanks. Decorate a small tree or a branch for Thanksgiving with lights, and attach paper leaves with things you each are grateful for. At Christmas, use an advent calendar to exchange a treat for a tiny scroll of gratitude.
Simple moments of awe and the opportunity to cultivate the life skill of gratitude wait at every corner. As you engage the "Very Small Hearts" of the young ones you love the most, I think you will find their capacity for gratitude is very great indeed.
Photo Credit: ©iStock/Getty Images Plus/Choreograph
Stacey Monaco has been speaking and writing since her first unpublished children's book in the fifth grade. Her journey as a writer has taken her from the depths of blue water exploration, to the simplicity of crafting words to encourage and educate in the areas of loss, legacy, leadership, and living life passionately with purpose. Stacey received her Masters Degree in Christian Ministry and Leadership from Talbot School of Theology, and has worked in many roles from slinging coffee to pastoring women. To find more on living the Christian life with intention, head over to her website at StaceyMonaco.com.
Related podcast:
The views and opinions expressed in this podcast are those of the speakers and do not necessarily reflect the views or positions of Salem Web Network and Salem Media Group.
Related video:
Read the full article, 10 Things Grandchildren Need to Hear.