Wall of Fame Material - iBelieve Truth: A Devotional for Women - June 9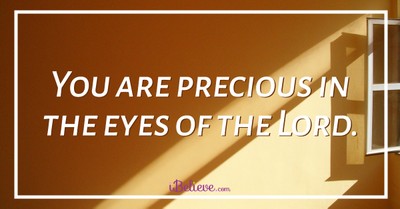 Crosswalk.com

"Wall of Fame" Material
By: Maggie Meadows Cooper
"You have searched me, Lord, and you know me. You know when I sit and when I rise; you perceive my thoughts from afar. You discern my going out and my lying down; you are familiar with all my ways. Before a word is on my tongue you, Lord, know it completely. You hem me in behind and before, and you lay your hand upon me." - Psalm 139:1-5
Anyone who knows my son, knows he is an avid sports card collector. Cards in books, shoeboxes, drawers...everywhere! One of his Christmas gifts last year was a display frame for his top 20 cards... the "Wall of Fame." As I was looking through his books for ones he wanted to include in the frame, I came across something that grabbed my heart.
In the center spot of one page, positioned in the midst of Tom Brady, Peyton Manning, Joe Montana, Anthony Rizzo, Max Scherzer, and other football and baseball greats, sat my son's all-star baseball card. Now, I don't know how his card came to be in that spot, but I do know this. The world might laugh that a little 9-year-old boy would be included among these amazing athletes, but the Lord looks on them all the same.
So many times, the world tells us that we don't measure up. That our worth should be based on our earthly accomplishments, awards, and recognition. That if we aren't included on a list of "who's who," we aren't enough.
But as my son and I sat down together to talk later that day, I shared this: There will be highs and lows in sports... and in life. You will win some and lose some. And people are fickle. They will praise your name one minute and curse you the very next. But the Lord never changes. And that's why our worth is found in Him.
Posted in his room are these verses to remind him that the Lord loves him, has a plan for him, and will give him strength for the hard things:
"You have searched me, Lord, and you know me. You know when I sit and when I rise; you perceive my thoughts from afar. You discern my going out and my lying down; you are familiar with all my ways. Before a word is on my tongue you, Lord, know it completely. You hem me in behind and before, and you lay your hand upon me." Psalm 139:1-5
"My flesh and my heart may fail, but God is the strength of my heart and my portion forever." Psalm 73:26
"Trust in the Lord with all your heart and lean not on your own understanding. In all your ways submit to Him and He will make your paths straight." Proverbs 3:5-6
"He must become greater and greater, I must become less and less." John 3:30
"Be strong and courageous, do not be afraid, for the Lord God is with you wherever you go." Joshua 1:9
"For I know the plans I have for you, declares the Lord, plans to prosper you and not to harm you, plans to give you hope and a future." Jeremiah 29:11
"He is before all things, and in Him all things hold together." Colossians 1:17
I pray that whether my sweet boy ever achieves pro sports status or not, that he will always know how precious he is in the Lord's eyes. What a gift to know that no matter our abilities, in sports or the arts or academics or anything else, we are all "wall of fame" material to God. May we all find comfort in knowing we are his and share him with those around us.
---
Maggie Meadows Cooper is a wife, mother, educator, author, and blogger with a longing for women to grow a heart for Jesus and others. She is the author of the children's book Bumper, helping others to see that the heart is what counts most. She blogs at The Little Moments about what the Lord is teaching her in everyday life and contributes to Blogs by Christian Women, Devotional Diva, She Disciples, and Connecting Ministries. An educator with a M. Ed. in Early Childhood Education from Auburn University (War Eagle!), she has eighteen years experience teaching and currently serves as a Parent Coordinator in the Opelika City Schools. She loves all things chocolate, real Coca-Cola, and leading the FBCO Teen Moms group. She lives with her husband, three children, and two rambunctious dogs in Opelika, Alabama.
Looking for authentic conversations about how to deal with body image, insecurity, and comparison issues as a Christian woman? The Compared to Who? Podcast is the show for you! Twice a week, we tackle tough topics like dieting, disordered eating, weight loss, aging, body dysmorphia, and more from a practical, grace-filled, gospel-centered perspective.