Praying With Perseverance - Truth For Life - June 7
Crosswalk.com

Keep alert with all perseverance, making supplication for all the saints.
Almost every Christian finds prayer hard at some time (or most of the time). Why is that?
One of the reasons why we're tempted to give up on prayer is that we don't always receive an immediate response from God. In a world that so highly exalts instant gratification, this is a real difficulty. It's the same issue as in trying to maintain a proper exercise regimen or diet: we want to see results now, today. If our new approach does not quickly show its benefits, most of us are unlikely to persevere.
Our tendency to lack endurance is one reason that Jesus told the parable about the persistent widow, who was relentless in seeking out justice from the judge. Luke makes the editorial comment that Jesus was encouraging his listeners to understand that they "ought always to pray and not lose heart" (Luke 18:1). In other words, Jesus wants us to pray—and then to keep on praying.
When Paul tells us to "keep alert" and to pray "with all perseverance," he is echoing Jesus' words to His disciples in the Garden of Gethsemane on the night before He died: "Watch and pray that you may not enter into temptation" (Matthew 26:41). Paul spoke similarly to the Ephesian elders, telling them to "be alert" (Acts 20:31). In a world embroiled in a cosmic spiritual battle, the stakes are too high to give up on prayer.
As we keep coming to God with prayer and supplication, we will all have to learn to be content with trusting that God will answer us in His good timing, and we will all need to remember that Satan would love to persuade us that prayer makes no difference and that God does not listen or act. You may not see an answer to a desperate prayer on this side of eternity. Sometimes persistence may appear to be met with silence. But in due time, God will show you that "the Lord is not slow to fulfill his promises" (2 Peter 3:9). He answers all your prayers exactly when He knows it is right to and in precisely the manner that is always best for you. God is always doing far more than we can ask or even imagined. Sometimes we can glimpse some of His purposes, but sometimes we are asked to live by faith, not by sight.
Are there people or situations that you have given up praying for because you have had no clear and positive response? Remember, you have not had such a response yet. One day, you will see what God was doing in directing matters differently than how you would have chosen. Until that day, you can persevere in prayer, because it is what He commands and because He has promised to work for the good of His people. Why not begin today to pray with perseverance for something you have quit speaking to God about?
As a thank-you from us for your gift, we'll send along this month's resource: How Christianity Transformed the World by Sharon James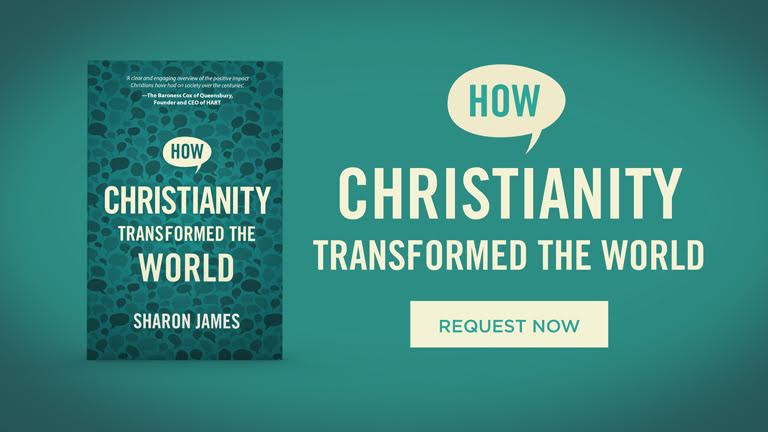 Click here to learn more about Truth For Life
Devotional material is taken from the Truth For Life daily devotional by Alistair Begg, published by The Good Book Company, thegoodbook.com. Used by Truth For Life with permission. Copyright © 2021, The Good Book Company.