How to Have Hope in Difficult Circumstances (Romans 15:13) - Your Daily Bible Verse - June 9
Crosswalk.com

How to Have Hope in Difficult Circumstances
By: Kia Stephens
May the God of hope fill you with all joy and peace as you trust in him, so that you may overflow with hope by the power of the Holy Spirit. - Romans 15:13
Like seasons, we will all eventually find ourselves in a valley, a season of despondency. Sometimes we are able to rebound quickly, sometimes we are left with the lingering feelings of despair. And when the circumstances of our lives prompt discouragement to link arms with the past, it can feel impossible to overcome.
Thus, we may find ourselves plunging deep into hopelessness. This was the place I found myself. I was discouraged. I had been here before, but this time was different. I had prayed the same prayer for years. Though I longed for resolution my prayers went unanswered.
Then I discovered Romans 15:13. May the God of hope fill you with all joy and peace as you trust in Him, so that you may overflow with hope by the power of the Holy Spirit.
The words of this verse captivated my attention. God was the giver of hope! He was the answer to hopelessness.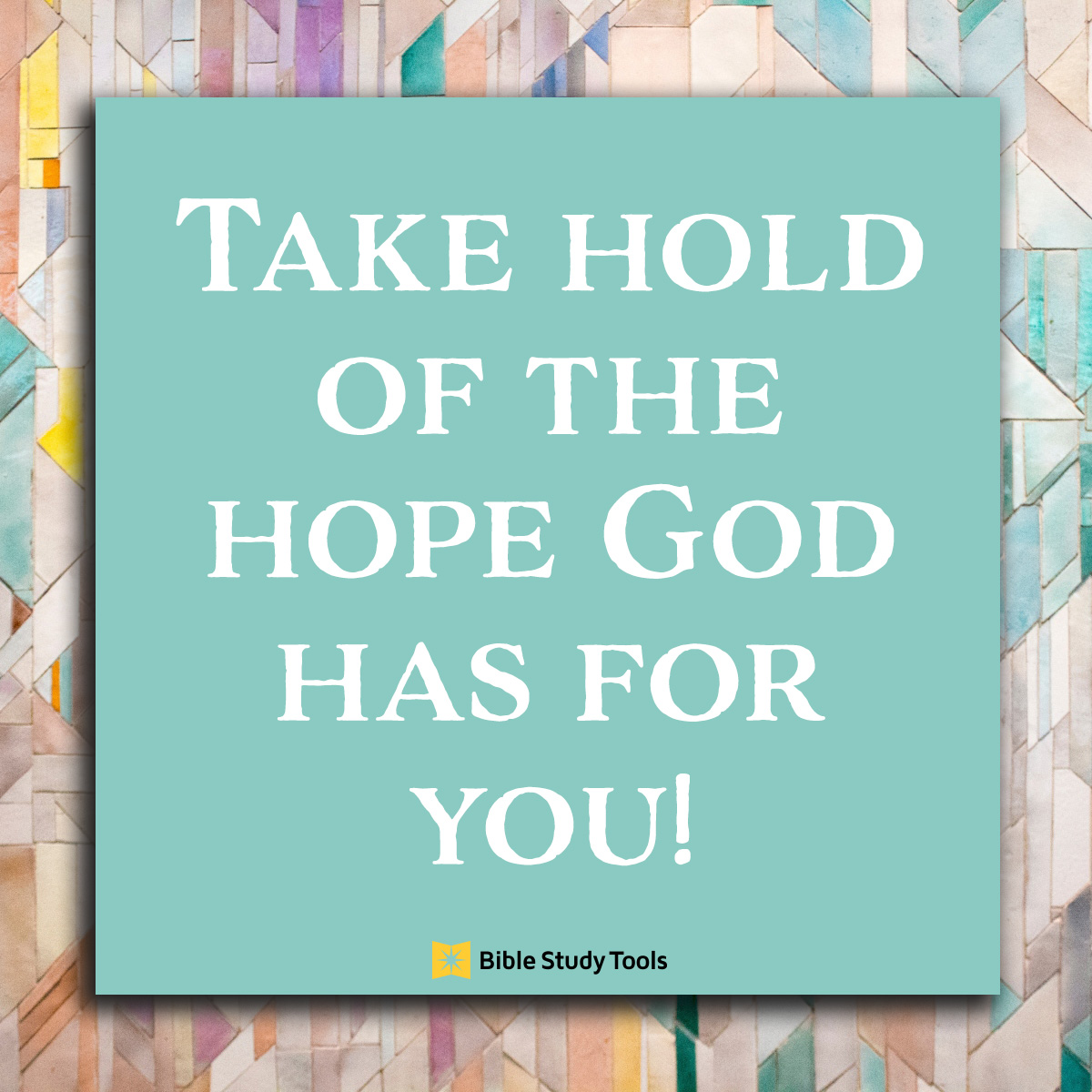 In the Greek, the meaning of hope is expectation of what is sure. This meant that God was the God of what we can be sure of. He is not peddling false hope and shallow words of encouragement. Whereas life, people, and outcomes are all unpredictable, God can be trusted. He offers words of life when we are in despair.
Paul prayed that the God of hope would fill us with joy and peace that would never cease. This joy and peace flows in and through our lives, seeping into every area.
Paul also says that God is able to fill us with joy and peace as we trust in Him. God is not dishing out this overflowing joy and peace to anyone who wants it. God has reserved this tangible evidence of His love for those who are trusting and believing in Him. Those who have placed their faith and trust in Jesus Christ can cling to Paul's prayer with anticipation. What an encouragement!
It would be a tragedy to have the promise of overflowing joy and peace and not take hold to it because of a refusal to trust in God. By placing our trust in him we have the privilege of engaging in an uneven exchange. We give Him our discouragement, and he offers us overflowing joy, peace and hope.
We do not have to live discouraged. We do not have to be perpetually stuck in a place of despair or hopelessness. We can know hope through the power of the Holy Spirit. We do not have to try and make ourselves hopeful or conjure up joy where it does not exist. Through the power of the Holy Spirit, God can impart hope to us.
It is important to note that this impartation of hope requires the power of the Holy Spirit. The third person of the Godhead makes this hope transfer possible. We experience the Holy Spirit as Christ described Him in Acts 1:4 (NIV). The Holy Spirit is a gift and He enables us to overflow with hope.
What difficult circumstances are you currently facing? Do you believe the truth of Romans 15:13? God has the gift of hope for you in the midst of your season of despondency. Trust in him and ask the Spirit to fill you with hope as you trust in him.
---
Kia Stephens is a wife and homeschooling mama of two who is passionate about helping women know God as Father. For this reason, she created The Father Swap Blog to be a source of encouragement, healing, and practical wisdom for women dealing with the effects of a physically or emotionally absent father. Each week through practical and biblically sound teaching she encourages women to exchange father wounds for the love of God the Father. For more encouragement download Kia's free audio message, "Knowing God as Father." Additionally, you can connect with Kia on Facebook, Instagram, Twitter, YouTube, and Pinterest.
We want to experience God through the Bible… we really do!
But our good intentions fall flat when reading the Bible just doesn't seem to help us experience God in a real way. What should feel alive often feels confusing and boring and irrelevant. But it doesn't have to.
In the How to Study the Bible podcast, pastor and Bible teacher Nicole Unice brings life back to reading the Bible by walking listeners through her Alive Method of Bible study, helping us personally encounter God through his Word by giving us a practical, clear road map for understanding, interpreting and applying Scripture to our lives. Just click below to start listening now!